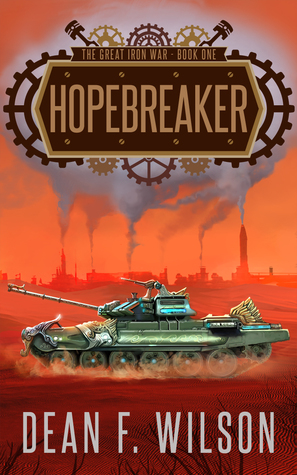 Here's one for Ireland 🙂
Not at all long ago I posted a review of Hopebreaker. Now, as has become to be the "ritual", here is the interview with the author.
***
* "Hopebreaker" is book 1 in "The Great Iron War" Series and I know "Lifemaker" will be out in 2015, am I right? How did the idea form for this series and will there be more than 2 books?
The original idea came from wanting to see how smuggling contraceptives, something that was a big controversy here in Ireland in the past, would work in a fantasy setting. It grew from there into something much bigger, touching on other issues that are still relevant to modern society. I find speculative fiction is a great way to explore these issues, while also being entertaining.
The second book, Lifemaker, will be out at the end of March, 2015. The third will be out at the end of summer, and hopefully the fourth will be out by Christmas next year. There are six books planned in the main series (and five of the covers have already been designed by the amazing artist Duy Phan), and I also have ideas for a stand-alone prequel.
* Tell me about your writing process- any rituals you always follow while writing? A certain place, time, ritual?
I'm a Night Owl, so I get a lot of my writing done late. [Note from Liis: Dean truly is a night owl. He emailed me the answers to the interview at 4:30AM. 😀 ] I just don't function very well when it's bright and early. Other than that, however, I don't have specific times. I do, however, aim to write 1,000-1,500 words, sometimes going under or over, and I write all my chapters in individual documents. I like to strike a balance between planning and spontaneity. I will plan the big events, the A and Z, and maybe the F and L, but I'll let the characters fill in the other letters themselves.
* Did you agree (with yourself?) on the audience you wanted to target with your book before you started writing?
Initially, no, but as it became clearer what genre this would be, I certainly kept the audience in mind. I try not to let that actually interfere with the story, however. There are arguably elements of a variety of genres and sub-genres involved in this tale, so I try to let the story be what it needs to be, and hope there's enough readers out there who will enjoy it.
* Is there a certain fear-factor in publishing a book?
Definitely. One way or another, the author's work, and sometimes the author him or herself, is going to be judged. In the end, however, an author needs to have a tough skin, and we can never let fear hold us back, no matter what our career choice or goals in life.
* What did you find to be the most difficult part of writing "Hopebreaker"?
Rewriting the first few chapters. I initially wrote them a few years back, and shelved them to finish The Children of Telm, and when I came back to them the story and characters had changed in sometimes drastic ways. Trying to salvage the good bits can be very challenging, but just like salvaging the good in everyday life, it is worth the effort.
* Why steampunk?
I've always liked the aesthetic of the genre, and the culture as a whole, which has grown well beyond the world of literature. I'm very interested in the Victorian period, which lends much of its culture to steampunk, and I like the marriage of fantasy and science-fiction, and the grungy, old-school feel of things, which contrasts with the floral motifs and eloquence inherited from the Victorians.
* Any tips for emerging writers?
Write a lot and read a lot. A new author needs to learn his or her craft, and develop his or her style. Reading helps us learn that as much as writing, especially if we read the great writers of various eras. It's also useful to get involved in critique groups, which is something I did a lot of starting off. My best advice for anything, however, is always this single word: persevere.
* Show off your unique brain and make a sentence using the following two words: "feather", "ice"
Though it was just a feather that fell, and not the bird, the ice below still cracked.
* What will you never write? Something you absolutely despise reading about and would never ever include in your books? If any?
I'm not sure I'd limit myself at present. Who knows if a specific story or situation calls for a particular scene or character? I plan to write in multiple genres, though likely under pen names, and I hope to tell a wide variety of stories, and explore a wide variety of characters.
* What next?
It's all hands on deck for Lifemaker and the other books in this series, but I'm also working on short stories in the Memory Magus series, which ties the two worlds I've created together (Iraldas from The Children of Telm, and Altadas from The Great Iron War). After that, there are many more ideas I'd like to explore.
***
Let me remind you, dear readers, that Hopebreaker is available on Amazon since yesterday, so "the bread on the shelf is still warm"!!!